Plume
A truly connected home Wi-Fi experience
We've taken all the frustrating parts of managing a home network and simplified them into one intelligent solution.
Learn More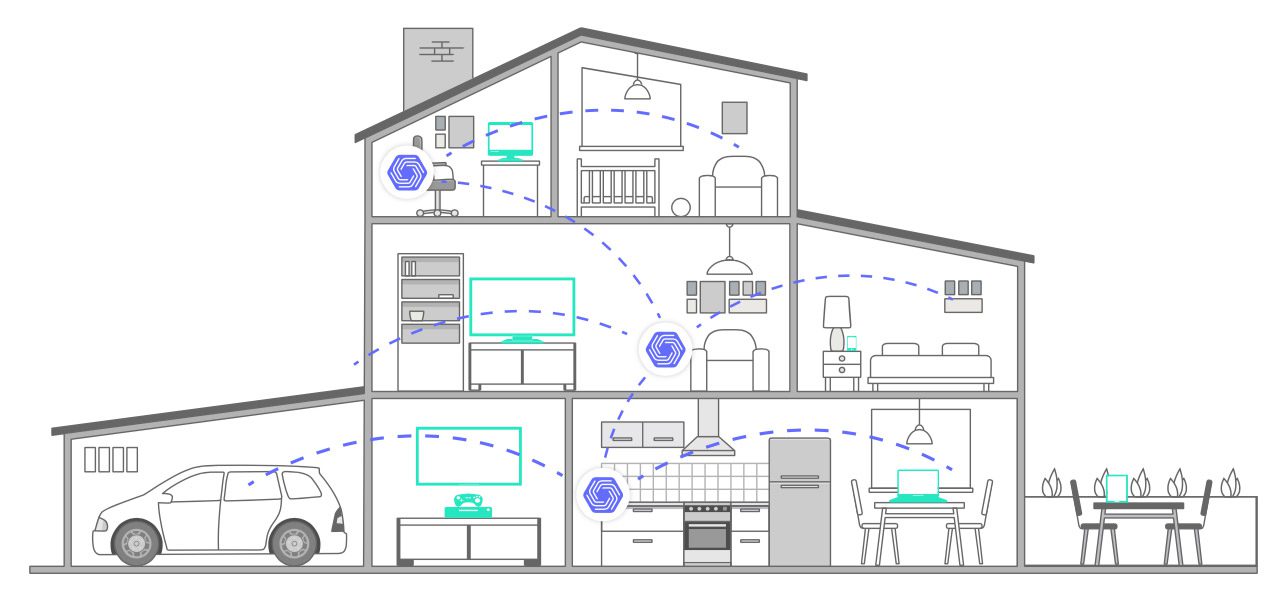 Connect in those hard-to-reach places.
Why settle for weak signals or dead spots? Expand your Wi-Fi network to get coverage where you need it. Walk room-to-room on a FaceTime call, stream your favorite 4K content or download a large work file – all at the same time.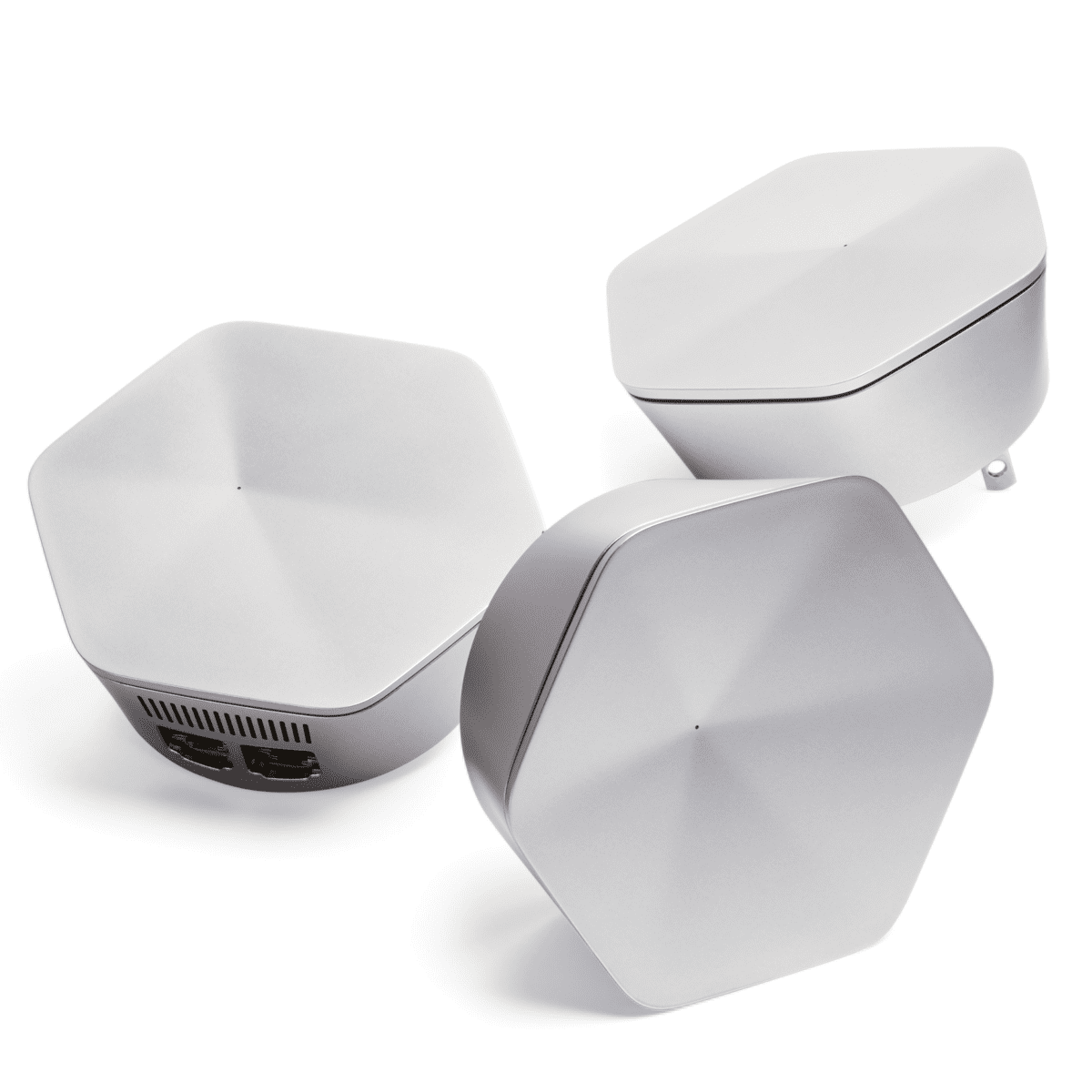 Plume Adapt™
Fast, reliable, consistent Internet throughout the home
Using breakthrough cloud-based technology, Plume provides you with full-strength, uninterrupted connectivity where and when you need it. Unlike other mesh network systems, Plume continuously learns about your Internet needs and performs advanced self-optimizations, allocating capacity to devices that need it most. Plume Pods help create a mesh Wi-Fi network that blankets your home to get you coverage in more places.
HomePass™ by Plume
From parental controls to disabling Wi-Fi access for specific devices, manage your network from anywhere with the Plume App.
Wi-Fi that knows the whole family
Who's playing games? Watching TV? Streaming music? With the ability to keep track of which devices are on your network and how people are using them, you'll always enjoy peace of mind at home.
Manage your network like a pro
As people and devices come and go in your house, Plume lets you see which devices are accessing the Internet and how much they're uploading or downloading. You can block and unblock specific devices from accessing the Internet.
Device usage and management
A tap on each device provides insights into the signal strength and bandwidth consumption. You can also see which Plume pod it's connected to.
Daily insights to fine tune your set up
The Plume app delivers daily reports on your home Wi-Fi signal strength and network activity. Get placement tips that help you fine tune your wireless network based on the ways you're using it.
Magically simple to set up
Plug Plume in and let the system go to work. Plume recognizes all of your devices, identifies the flow of traffic, and starts to optimize your home network. The Plume app helps you manage the setup with a few quick taps.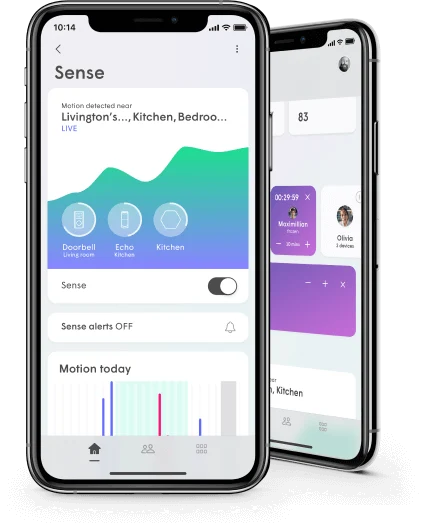 Sign up to learn more about Plume
Please submit the form below and someone from our sales team will be in contact with you regarding adding Plume to your account.
"*" indicates required fields
Download the Plume app as soon as you've signed up.
Plume Guard™
Cyberthreats are evolving. So are we.
Plume offers advanced protection against online threats for all the devices on your network:
Online Protection
Plume filters out suspicious content as your devices connect to the Internet, providing you with real-time threat protection against crypto-mining, ransomware, malware, viruses, botnets, phishing attacks and more.
Advanced IoT Protection
Plume identifies all your connected devices and continuously monitors them for suspicious activity. If a device is compromised, Plume quarantines the device, preventing the threat from spreading to rest of your connected devices.
Adblocking
Plume blocks the ad content coming from known ad servers, significantly improving your browsing experience.
Plume Sense™
Plume Sense uses Plume Pods and the Wi-Fi connected devices in your home to detect motion.
It is a smart motion detection system that also informs you when family members or guests arrive or leave.
Live View
Take a look inside your network to see where the motion is currently happening.
Motion Alerts
Receive push notifications when motion takes place, based on when people are at home.
Motion History
Review the past 24 hours or 7 days of motion history in your home.
Personalization
Plume Sense settings can be customized to fit you, your family and your home, including motion sensitivity, pet mode, Motion Alert frequency, and where motion detection is tracked in your home.
How does Plume compare?
Face it, we use WiFi every single day but most of us don't know one system from another! To make a long story short, mesh is a static system that promises home-wide WiFi coverage through a series of extenders. It's far from perfect, because as demands on the system grow, the response remains the same, increasing the risk of slowdowns and drop-offs. That's why we created ADAPT with a new level of dynamic response and signal steering. Beyond just coverage, ADAPT uses AI and machine learning to map WiFi channels and usage around your home, learning from your connection patterns to distribute WiFi perfectly, any time.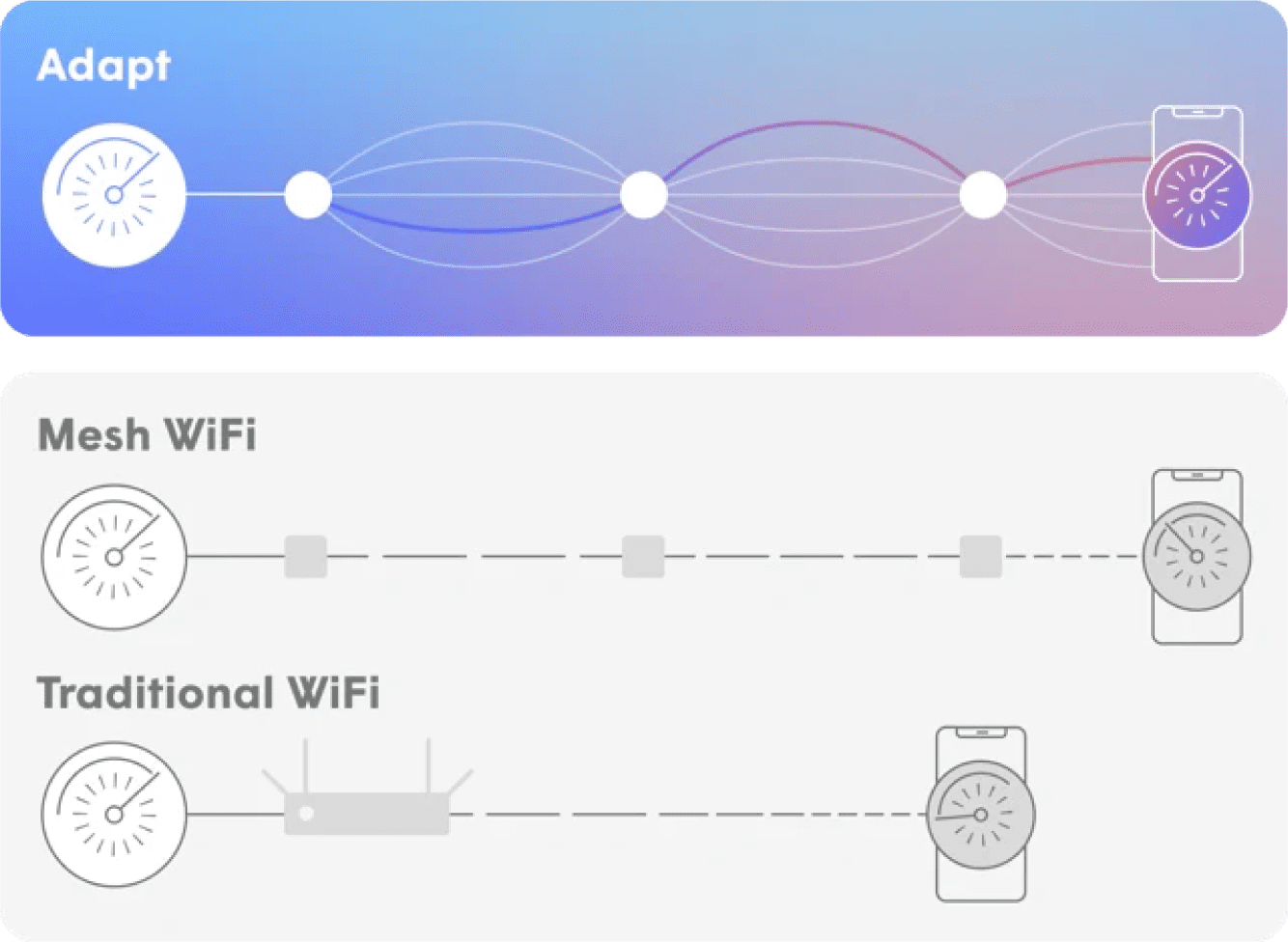 Is HomePass a broadband product?
No, HomePass is an AI-driven, smart WiFi service. It works with any broadband provider by plugging a pod directly into your hub. Additional pods are spread throughout the home to extend coverage to WiFi blind-spots.
How is HomePass better than a standard WiFi extender/booster?
HomePass adapts to your usage through network improvements. It runs more than 10 different types of improvements that work in the background 24/7, so you get fast and consistent WiFi to every corner of your home. For example, if a change occurs that would impact your WiFi performance, like an increase in connected devices or interference from a neighbor's WiFi, HomePass will make the appropriate adjustments to maintain your WiFi experience.
Can HomePass also protect my connected IoT devices like my doorbell or camera?
Yes. Homepass monitors all WiFi connected devices in your home and will quarantine threats and notify you of any suspicious behavior by any of the connected devices in your home.
Is setup really that easy?
Yes—simply plug your first pod (via the provided ethernet cable) into your existing hub. Then distribute your second pod—and any other pods you have purchased—around the house. Download the HomePass app to manage and label your pods, so you know where they are in your home (e.g., kitchen, hallway, etc.).
Is there a membership commitment?
Yes, HomePass is a one (1) year membership with an option to extend.
Why do I need to pay for membership?
HomePass is constantly improving, and new features are added continuously. Your payment brings you all the benefits of HomePass and live technical support.